CN612TC1 / CN612RTD2
Power 120/240 VAC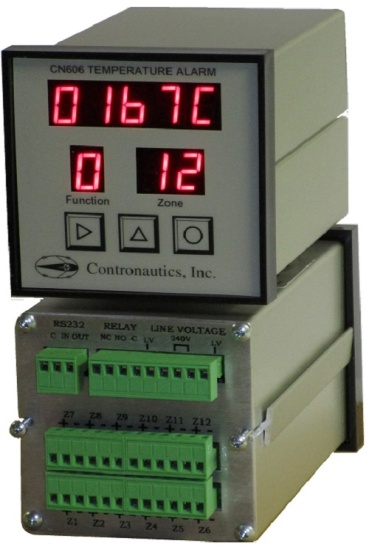 Description
The CN606 Series is a microprocessor based scanner
which accepts signals from thermocouples or RTD's.
In the basic unit, six zones are sequentially scanned
with a selectable display rate of 1 to 40 seconds each.
A single output relay is provided to indicate an alarm
condition on any zone. The faceplate has been
arranged to call attention to an alarm condition by
flashing the main temperature display and indicating
the zone in alarm with a flashing zone number display.
To prevent alarm on startup, Lo alarm is not activated
until enabled zones cross Lo alarm setpoint.
The CN606 Series implements a security password
to protect certain functions.
Available for purchase on line: CN612
CN612TC1-DC / CN612RTD2-DC
Power 9 - 36 VDC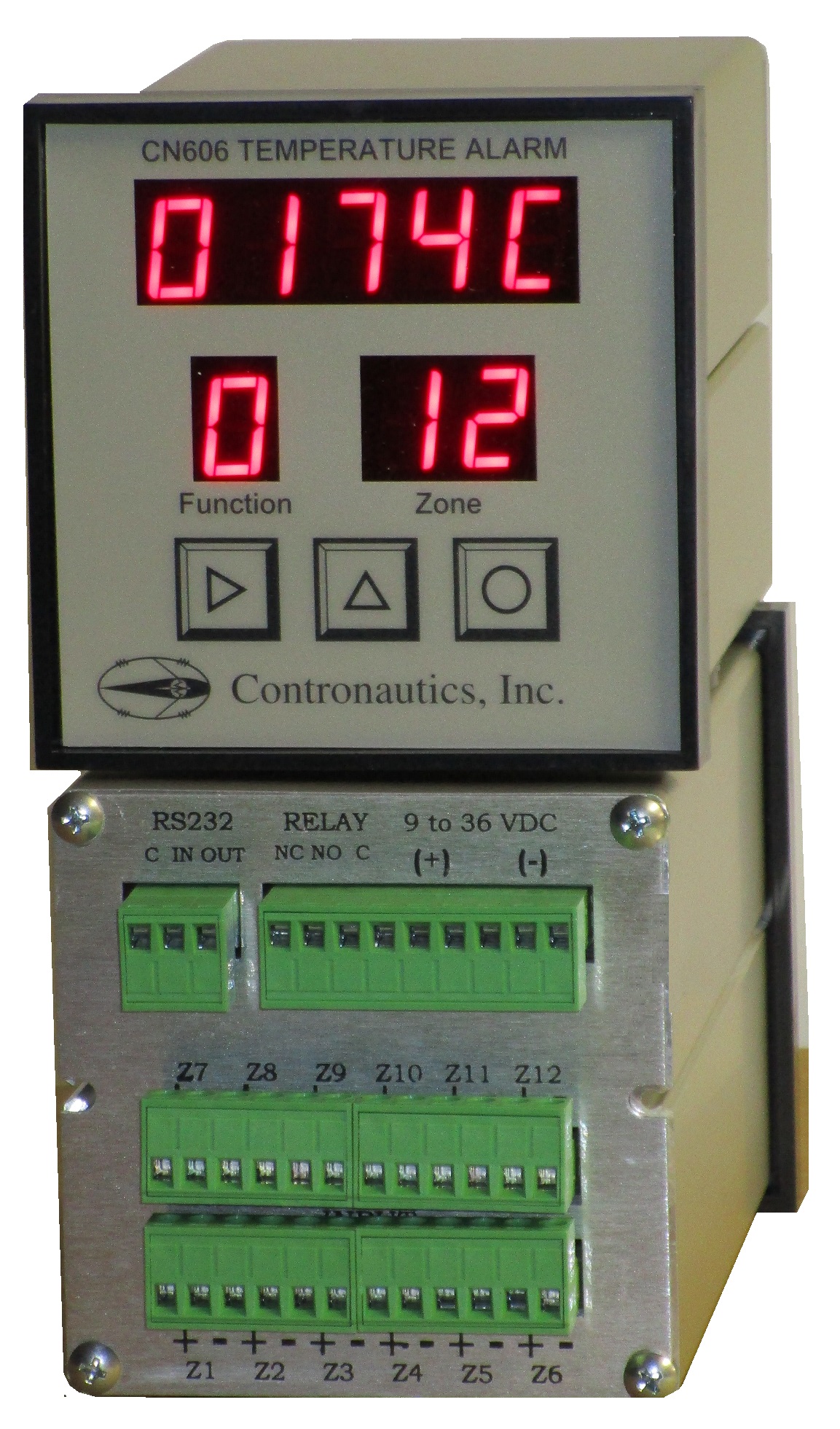 SPECIFICATION
No. of Zones Six
Zone Display Time 1-40 seconds
Scan Time Approx. 1/4 sec
Accuracy ±0.2% Range ±2 °C
Resolution ±5uV
Linearity ±1 °C
Scale Selectable °C or °F
Open T/C Warning Flashing Display
Alarm Relay 5 Amp; 120VAC
Relay deenergizes on alarm
Communication RS232 (3wire)
Alarms Selectable HI, LO, HI/LO
Alarm Range Full Range
Terminals Headers for Plug-in Wiring
Enclosure 1/4 Din Aluminum, 6" long
Reset Manual
Max. Voltage between Inputs 6VDC or RMS
Reaction to Power Loss Unit saves settings
Main Display Four Digit; 0.6" high
Automatic Cold Junction Compensation
Line Power AC Model 120/240VAC; 50/60Hz
Power Consumption 10VA Max.
Line Power DC Model 9 - 36 VDC
T/C Model
Thermocouple Type J,K,E,T,S,R,B,C
RTD Model
RTD (2 wire) Pl, Ni, Cu